The Quantum and Complexity Science Initiative is constantly seeking very talented research fellows for interdisciplinary research in quantum and complexity science. The positions are ideal for quantum information theorists interested in adapting their knowledge to complex systems, and complexity theorists who wish to generalize their work to the quantum regime.
Responsibilities
Successful candidates are expected to conduct fulltime research at Nanyang Technological university. Key activities include:
Developing quantum protocols for understanding complex systems and generalizing information theoretical concepts to complexity science.
Leading research in exploring the impact of their research to aspects of quantum and complexity science.
Initiating collaborative projects with other experts in quantum and complexity sciences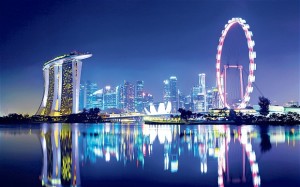 Remuneration:
After tax salary of 55,000 – 68,000SGD  (approx 36,000 – 44,000 Euro) per annum
Complementary health insurance.
Why QuSCI?
Support from the Centre for Quantum Technologies: The initiative is supported by the Centre for Quantum Technologies at the National University of Singapore, a premier international institute in quantum technologies.  The centre hosts international leaders in quantum information; and provides excellent research support, including professional outreach officers to ensure your work has maximum impact.
Support from the Complexity: The initiative is also supported by the Complexity Institute, a internationally recognized research institute in complexity science. The institute frequently hosts high profile workshops and seminars in complexity science; which presents a perfect forum of disseminating your work to diverse researchers in complexity science.
Based in Singapore: Singapore has being consistently ranked as one of the best places in the world to live and work.  The island nation is known for it excellent public transport, safety, food and efficient management.
Affiliation with a rapidly rising university. Nanyang Technological University is extremely well funded and buzzing with activity. It ranked 14th in the world by QS University Rankings in 2015, gaining 25 positions in single year, and is consistently named the Top University under 50 years of age.
Requirements:
The ideal candidates should possess a PhD and an excellent research track record in one (or more) of the following areas:
Information theoretic approaches to complexity science, especially computational mechanics (Research Fellow in Applied Quantum Complexity Science).
Quantum resource theories, quantum channels, or quantum communication (Research Fellow in Quantum Information and Complexity Science)
Quantum protocol design, their implementation of current laboratory environments and or numerical methods. (Research Fellow in Quantum Technologies and Complexity Science)
Excellent candidates  in all areas of quantum and complexity science will also be considered. All candidates are expected to have (1) excellent English verbal/written communication skills, (2) the ability to communicate technical ideas to interdisciplinary scientific audiences.
Appointments will be initially for 1-2 years, with options to extension for up to 4 years.
Note: While our primary hiring rounds this year are now over, potential remains for exceptional candidates.
How to Apply:
Interested applicants should send their applications to Mile Gu, including
1. Curriculum Vitae
2. Full Publication List (or Google Scholar Profile)
3. One-page cover letter describing your research experience, and how it can relate to quantum and complexity science (max 500 words)
4. Link to PhD Thesis.
5. Contact details (e-mail) for three referees.
Informal inquiries and formal applications should be made to Mile Gu [cqtmileg (at) nus.edu.sg]